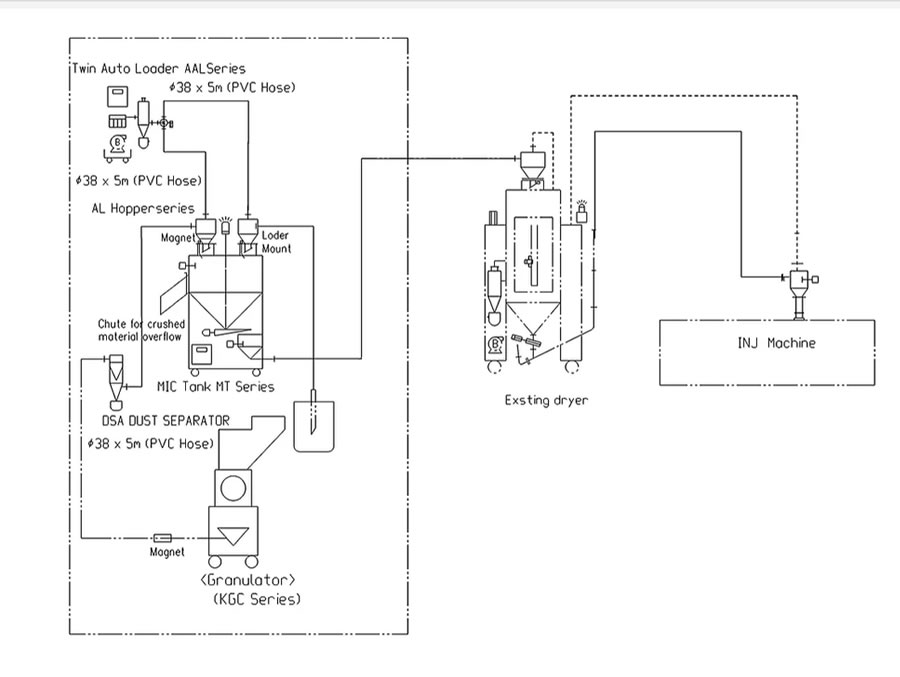 Crashed process
 *Square type of cutter house opening 360mm x 335mm [14.17″ x 13.19′] (KGC-350) can crush                               even large runners in three dimensions.
 *Since the coarse crushing blade cover is detachable, cleaning is easy.                                                     *Die steel (equivalent to D2) is used for the blade, making it ideal for runners with glass filler.                               *A scissor cut is used for the coarse crushing blade to improve crushing efficiency and reduce                               the cause of powder generation.
 *The input hopper and the receiving hopper can be freely laid out every 90 degrees according to                          the installation conditions.
​*Conveying equipment is the primary machine for factory automation. It is required to bring materials efficiently and without waste in a limited space. In addition, by combining with other models, we can realize a factory layout that meets the needs of our customers.
*Single loader, twin loader, floor-standing blower unit, Dust collection cyclone Filter, Easy to clean them.
KGC series
Conveying process
VACUUM LOADER
Powder / foreign matter removal process